At present all my books are available in german only. You can order them directly via me, and I will sign the book personally for you, or you can order them in a bookshop – just click on the links.
NEW RELEASE:

 About Life in East Greenland

Heute gehen wir Wale fangen, btb, 25 Euro
order with signature from Birgit
order without signature in the Online Shop at Bücheroase Schliersee
Greenland. The biggest island in the world. When I crossed Greenland in 2013 and reached to East Coast of Greenland for the first time, I was fascinated. I returned several times to the Ammassalik region, which was visited by Europeans for the first time only 130 years ago. I met people who grew up in earth houses. In the stone age, so to speak. I met young people who had lost their identity in the rapid transition from the old life to modern times. And Europeans, who had come here hoping for a slower life. I found people living between worlds, and was tested myself over and over again – for example, when I was asked to join in the seal hunts. The Süddeutsche Zeitung writes about this book: "Birgit Lutz succeeds in painting a compelling, sensitive portrait of East Greenland in a unique moment: A time in which a culture is disappearing for all time."
Thomas Ulrichs story from the ice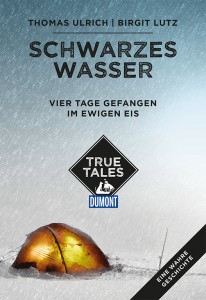 Schwarzes Wasser, DuMont Reiseverlag 8 Euro
sold out in bookshops
order with signature from Birgit 
Work becomes pleasure when you realise plans with friends: The swiss adventurer and polar explorer Thomas Ulrich told me the story of his 2006 attempt to ski from Russia via the North Pole to Canada. After this incident quite a lot was happening and changing in Thomas´ life. He spoke to me very openly about what the experience of spending 4 days on breaking ice, fighting for survival, has done to him in the end. Sometimes things happen which divide your life into a before and an afterwards – and that afterwards is nothing like before. Our long talks led to the publication of a gripping tale, one which tells far more than merely the events of those dramatic days in March 2006.
---
The book about my Greenland Crossing
The Inuit say: "You never really know your friends from your enemies, until the ice breaks."

Grenzerfahrung Grönland (Hardcover), btb Verlag 2014, 19,95 Euro
sold out
Quer durch Grönland (Taschenbuch), btb Verlag 2015, 10,99 Euro
order with signature from Birgit
order at Bücheroase Schliersee

In May 2013 I crossed Greenland together with two men, from West to East. Our expedition became a journey into ourselves, which unfolded in a way that was unforeseen for all of us.
---
On skis to the North Pole and other stories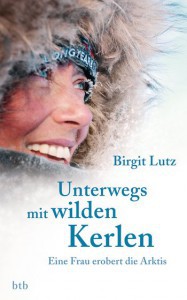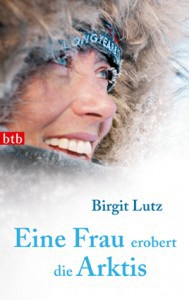 Unterwegs mit wilden Kerlen (Hardcover), btb Verlag 2012, 19,95 Euro
sold out
Eine Frau erobert die Arktis (Taschenbuch), btb Verlag 2013, 9,99 Euro
order with signature from Birgit
order at Bücheroase Schliersee
Ice is never just ice. It is always different, every meter is new, you never know what the next kilometer is going to look like. In this book I tell of my expedition to the North Pole in 2010, together with Thomas Ulrich, but also of other arctic experiences I had and stories I gathered during five years of Arctic travel.