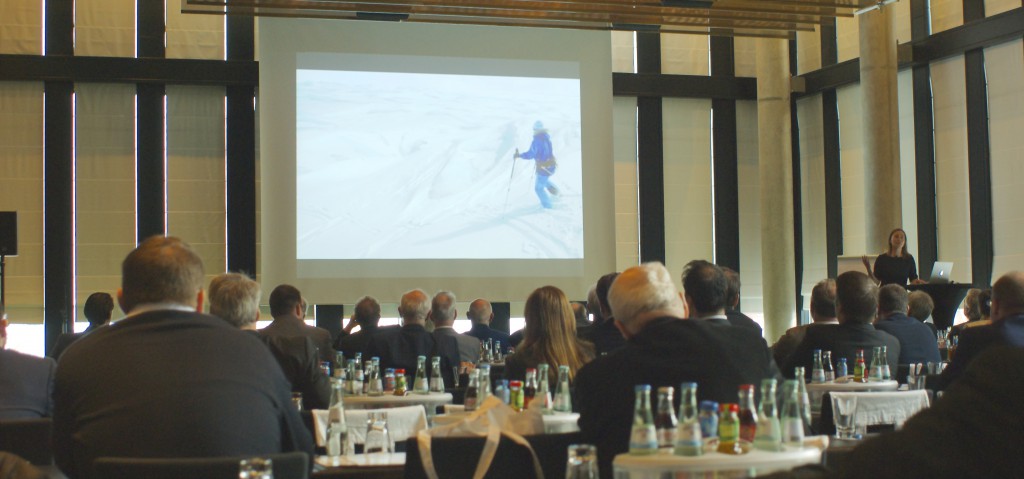 I speak at a wide variety of occasions, to hugely varying audiences, about the experiences I have had during my skiing expeditions in the Arctic, or while leading expeditions on vessels. I speak at company events, stand before decision makers and leaders, or appear as a guest speaker at receptions and award ceremonies. I sometimes show presentations about my expeditions in public, I visit schools to talk about my plastic project, and I talk to women about gender issues. And of course I love to give readings from my books in book shops or libraries.
---
Are you interested in a presentation?
Contact me here!
---
Company talks: Motivation, team dynamics, crisis management – or simply good entertainment
I tailor my lectures to your wishes and expectations, whether you are looking to offer your employees, partners or clients simply good entertainment to round off an event, or whether you wish to focus on a particular topic close to your heart.
During the numerous tours that have taken me to the remotest of arctic regions, I have been able to gather valuable experience that is applicable to many fields of the business world.
I have learned of the imperative nature of good preparation and early reaction to small problems, problems that can otherwise develop into catastrophes. I have seen the kinds of dynamics that can evolve in a group – both beneficial and destructive. During expeditions in the ice, you spend long periods of time in closed systems. These two factors – duration and closedness – have an amplifying effect on all events: A good team spirit can enable a group to excel. A bad team spirit creates fear and paralysis, jeopardising the accomplishment – and perhaps the safety – of the entire group.
In my lectures, I pack these experiences, the analysis and the lessons learned into exhilarating stories from the little-known corners of our planet – the Greenlandic Icecap, the frozen polar ocean or Russian drift-ice stations.
top
*****
Plastic: The Spitsbergen Project, School Lectures and Public Lectures
No matter where I have gone on our planet – plastic was there before I was. That is why, in 2015, I initiated a Citizen Science Project together with the Alfred Wegener Institute for Polar and Marine Research in Bremerhaven. In this project we collect and analyse plastic in Spitsbergen. I give lectures about the project at schools and in public, about plastic marine pollution and about the role we play in it – and what we can do about it.
Here you can read more about the plastic project and my lectures about it.
*****
Women: Why we should be more daring
"Good you are here! Now we know who will be doing the cooking!" That is how I was welcomed in 2010, as the only woman in an all-male team, with which I wanted to ski to the North Pole. "But is there a man on board?" I was asked in 2019 (!) as I welcomed guests onboard a sailing vessel in my role as expedition leader. In moments like this it is important not to lose your sense of humour. This is also the driving idea behind my lecture about women and men.
This is a lecture I never really wanted to give. Many aspects are important during an expedition – gender was never one of them for me. However, certain things happened to me, certain phrases were dropped into conversations again and again, I behaved the way I behaved in certain situations because I am a woman. For quite some time, I perceived these events as limiting factors. Meanwhile, I might have guided around one hundred mixed groups as an expedition leader, leading groups on hikes or snow-shoe hikes. During these hikes I was often able to observe completely contrasting approaches and behaviours demonstrated by the men and women taking part. In this lecture I wish to share my own personal experiences, as well as those of others I have observed, without passing judgement on them.
I was motivated to give this lecture by the positive feedback I received after my "normal" adventure lectures, in which I mention the women-men-topic only very briefly. In contrast to the past, I now no longer think that gender plays no part in expeditions. Much of the success I have on the tours I lead is thanks to the very fact that I am a woman, and as such I bring specific qualities to the leadership of an expedition. I can now see this as an enriching factor.
My experiences have given me the ability to handle situations with sovereignty, situations that may have shaken me or made me angry ten years ago. It is this experience I would like to share with other women and girls. I often meet young women who have amazing skills and who do amazing things, but nevertheless continuously question themselves. I would like to encourage them to go their own way and be who they are: great personalities.
top
*****
Readings:
Insights into my books and their creation
I am happy to receive all kinds of invitations, be they to small book shops, libraries, museums, outdoor shops or entire lecture series. My readings are never "only" readings. I talk also about the background of the books, read certain passages and illustrate and enrich them with pictures, videos and music. My readings develop into entertaining events which truly add value to the book.
top
*****
Adventure: Let me take you with me to the far reaches of the North Pole or on an epic journey across Greenland!
I sometimes give public appearances to present my tours to the North Pole or Greenland. I take my audience with me deep into these icy landscapes, across the frozen Polar Ocean or across Greenland. I incorporate images, videos, music and my own accounts to create gripping tales that captivate the audience from beginning to end, and take him to regions hardly ever explored, and beyond most of their imagination.
The arctic ocean holds the same fascination as the inland ice of Greenland. After a cliff-hanging race against time, we finally reach the northernmost point of the planet. Or, after 28 days on the ice, mental and physical struggle of epic proportions, we finally catch our first glimpse of the east coast of Greenland – and know that we have survived. The lectures are as diverse and vivid as the expeditions and their ordeals have been (- just not as exhausting! 😊).
*****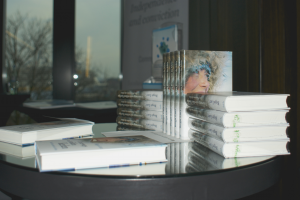 If you wish to give your guests a lasting memory of your event, I will be happy to personally sign a book for each participant. A presentation book table is also possible, where interested guests can buy a signed copy or browse through my other titles.
Let us talk about your ideas: Write to me!
top
Some voices after my lectures
Helm AG / BU Pharma
We invited Birgit for a speech about her North pole expedition during our 2019 international Pharma meeting in Hamburg. It took a few minutes only and you could feel an arctic breeze entering the room – everyone was fascinated about her deep insight into the world of ice and snow. Several colleagues had wondered before about what an expedition story would have to do with our day to day business – indeed it has a lot! How to build a high performing team to reach our goals, extend our borders – and that in a constantly changing and highly challenging environment? Why are we doing what we are doing – every day? Birgit gave lots of inspiring answers. All that with great passion, lots of humor, a clear dedication and purpose for what she is doing. It was truly fascinating and amazing to enter into that completely different world – and in the same time to learn that there are many parallels to our daily doing.
Deutsche Bahn
Your presentation at our autumn reception was very interesting and impressed our guests enormously. The captivating account of your North Pole excursion, the motivation, the perseverance and the team challenges were authentic, human and strong-willed. What really impressed me was the clear focus you held to reach the North Pole – especially with respect to the ever-changing challenges. Picture and sound also portrayed the beauty of a supposedly untouched ice world. It was especially the images of the plastic garbage issue that gave particularly good food for thought. Thank you so much for this impressive experience!
Continentale Insurance Association
An extremely entertaining lecture that gives a vivid impression of the bizarre beauty of the polar zone. It requires one to pose the question: How far can a person go beyond his or her own limits without failing? What do we take away with us? That our world is precious and worthy of protection – but also that one can only win personally, if one really "burns" for a cause.
Castle Falkenberg
The audience was truly invigorated by this remarkable woman, and they acknowledged this exciting presentation with ample applause. What really impressed us was the single-minded determination to reach the goal of the North Pole – and to do that as the sole woman in the company of men. Working together in a team at the limit of what is possible, as Birgit has done, should be a role model for all of us. We would like to thank Birgit, who has taken us into the world of ice with her engaging nature and fascinating pictures.
Business and Professional Women Germany, Club Munich
Going to your own limits to fulfill your dream, working closely together as a team to take the next step and to maintain your courage and motivation under the harshest of conditions, to ultimately reach your goal – this is what Birgit Lutz impressively demonstrated to us at the club night: Humorous, authentic and with many fascinating pictures, she took us with her on her journey and confronted us also with the challenges of such an expedition. Our audience was thrilled!
Globetrotter, Frankfurt
Birgit has opened new horizons for us. In her exciting lecture on the culture and way of life of the East Greenlanders, she allowed us to look into a world of which we knew very little, but on which we still have great influence. It was particularly impressive to experience and learn about the relationship between seal hunting and whale hunting.
BN & Partners Capital AG
Birgit Lutz thrilled us at our event. She managed not only to melt the ice – but also our hearts. You were able to feel her enthusiasm and her emotions close up. The unique images presented us with the beauty of the Arctic. This inspiring presentation still leaves its mark today!
Hostettler, Kramarsch & Partners
An inspiring talk, very exciting and thrillingly recounted. You can feel the enthusiasm of Birgit Lutz as you listen and watch – you fever with her, you freeze with her.
AHF Group
My business partners were totally fascinated by her presentation, it was exciting, inspiring and presented many parallels to our work! Her warm, human nature also makes her very approachable, authentic and extremely competent. This lecture is a gift for anyone who has to deal with challenges in life and with `not giving up' – again and again!
Raysono AG
Her talk about her experiences in the eternal ice remains strong in our memories. We would love to hear her stories every Tuesday evening, to learn of new details, to be swept along, to laugh about the wild guys, but most of all, to be one of the wild ones. Thank you again, we were well informed, but also very well entertained. With maximum wit and charm. We are looking forward to the next book, so we have a reason to make the next lecture booking!
Bookstore Baumhof
Birgit Lutz thrilled the audience at the reading `On the Road with the Wild Ones'. The author reported impressively on her trips to the Arctic, accompanied by moving and expressive pictures. One is fascinated by the beauty of the Arctic and can't but acknowledge the immense exertions which Birgit Lutz took upon herself. At the same time, you can feel her love of the Arctic. Even days after the event, my customers thanked me and regaled me with tales of this unforgettable evening. I am looking forward to further events with Ms. Lutz. A side effect of this evening for me has been that plastic bags have become a thing of the past in my company.