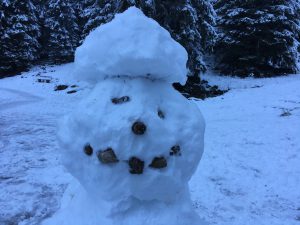 On our mountains we have already the first snow. That means, we can talk about Christmas presents. If you want to create something personal, it is anyway about time to start by now. I collected some ideas for plastic free presents, which can anyway help with some next steps into a more plastic free life. To give to your loved ones – or for your own wish list!
A plastic free life is complicate, I hear often. I do not agree – if you do not make it too complicated for yourself, it is even a pleasure and can add nice things to life that formerly did not exist. In small steps you can eliminate quite some plastic in your life. A big step you can make if you wish a series of plastic alternatives for Christmas or you give them to other people. Precious about that is, that some single use items might be replaced by personally handcrafted items which contain a high idealistic value and make you smile in your daily life. The best example is right here: Handkerchiefs from your mother or grandmother.
Handkerchief with or without monogram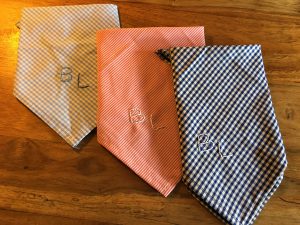 Who still has a grandma or ma, who like sewing and embroiling? Last year I asked my mother for handkerchiefs with my monogram. She made me a whole series, in light cotton and various colours. Since then I did not use one plastic-packaged-cellulose handkerchief any more; for a real cold I recommend a bigger supply, though. Beside the environmental aspect I really appreciate, that an every day item can be so personal!
Bread and Bun Bag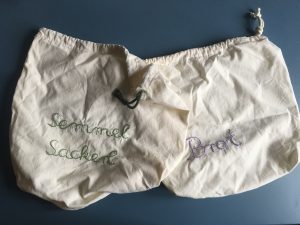 Also these bags are a present out my mother´s sewing box. In our daily use we still forget about them too often, but our local baker enjoys filling our bread, bretzel and buns into these bags. According to the region where you live you can embroid them with different local names for your favorite baked item – in Bavaria these are of course Brezn and Semmeln, and also bags have very regional names in German. In your language, too? Makes it even more unique!
Knitted dish cloth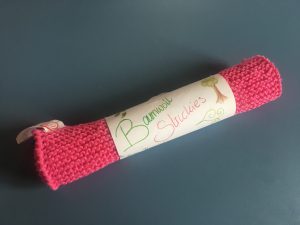 I got this great Cotton-Knittie from the students of the professional school in Mindelheim, who liberated their school almost completely from plastic. To achieve that goal they even manufactured their dish cloths. The knittie made from a thin cotton yarn does a great job in my kitchen, he dries easily and every now and then enjoys a journey in the washing machine. I have knitted several more myself – and I got rid of any other disposable dish cloth ever since!
Waxcloth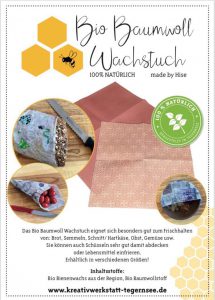 You can manufacture them yourself or buy them nowadays in many shops or order them in internet: Useful cotton wax cloths in various sizes. They replace cling film completely. Cheese or veggies are easily wrapped up and stay fresh, you can cover bowls or pack a bread to go in it, as there are now also bags of the cloth available. You can clean them easily and they are quite durable. Cling film or aluminium foil have left my kitchen since I use these – and you can even use these as a zero waste wrapping paper!
Glass Containers with a Wooden Lid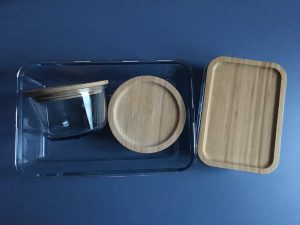 Not handmade, but another suggestion for the kitchen and maybe also an alternative gift packaging: pretty glass containers with a wooden lid. These ones are from a well-known Swedish furniture house. I use them to store food rests, as baking form, to freeze soups and at the butcher or cheese counter to avoid plastic packaging. They look really pretty – I did not know it can even be kind of a pleasure to store food!
Washbag Guppyfriend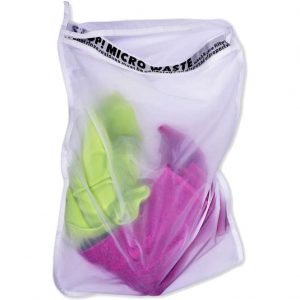 Santa Claus with a Guppyfriend instead of his bag? Would be an option! The guppy friend is a clever wash bag: He filters smallest plastic fibers out the waste water of your washing machine. Every wash cycle breaks fibers out of your synthetic fiber clothing, be it fancy tops or sportive fleece jackets – even thousands per wash cycle. The Guppyfriend helps avoiding the fibers to break and lets your clothes last longer. At the same time the broken fibers are filtered in the net and do not reach the waste water and in the end the sewage sludge on our fields. You can get the Guppyfriend for example at funktionelles.de. (And with the Code BirgitLutz you get a 15% reduction, as often as you shop there.)
Now let us move to cosmetics. I have bought everything I mention here in normal german drugstore chains like dm, Rossman or Müller, they do not need to be self-made or ordered in Internet.
Hair Soap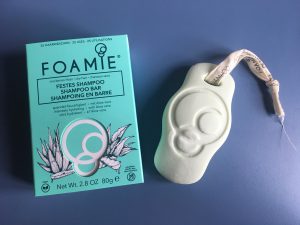 Quite a while ago I changed from conventional shampoos to natural cosmetics shampoos. My hair was a bit shaggy in the beginning, but that passed after some weeks. What I still did not like about them was the plastic packaging, so I moved on to Hair Soap, with this Foamie. I am super impressed! My hair looks pretty and healthy and for the first time I do not even need a conditioner anymore! I have long hair and to comb through them after washing is a bit of a challenge, but that's it. I now have considerably less chemicals in my bathroom and eliminated lots of packaging with this simple step. Since I travel a lot I also save lots of space in my toiletry bag which can even be checked in my hand luggage as there are no liquids anymore. Hair soaps are meanwhile offered by various producers and there are also own brands from drug stores, which are good – and all without plastic. Trying them is fun, the foamier looks good and smells good – you can even try to give them to teenagers!
Soap bars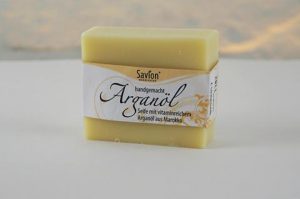 Selfmade soaps are a great present! There are lots of recipes in the internet, and who does not have the time or nerve for it: There are also lots of good, interesting and fragrant soaps in stores. You only need to Code Check them for the ingredients. Soap bars have replaced the liquid soap in bathrooms and kitchen, and it replaces even all shower gels. Our skin is not drier or different since then, we even found some soaps that make the skin feel softer and less dry. Imagine, what tons of plastic packaging is avoidable only with this simple step! And the toiletry bag is even smaller…
Plastic free Deodorant without Aluminium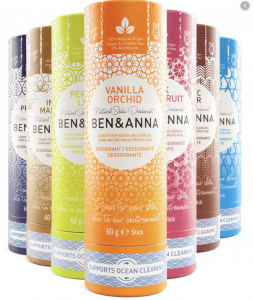 Deodorants are a difficult subject. Many people need quite a while to find one fitting for them. I have found two that fit for me, one from the drug store, one in internet. The deodorants of Ben & Anna are packed in carton and contain no plastic or aluminium. They work! But after a while I reacted allergic to the lemon deodorant. That may only be me, and the other fragrances less aggressive. And they look really nice a little gift!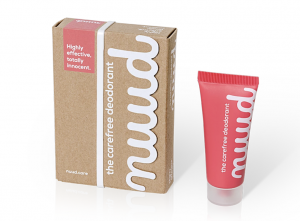 The other one I found in the Netherlands: nuud. It is in a small sugar cane tube and it holds what it promises: You have to apply it only every third or fourth day and it still works. I noted that I use it even fewer, the longer I use it. Both deodorants are only examples, in your drug store you surely find more options that would make a good present.
Toothpaste tablets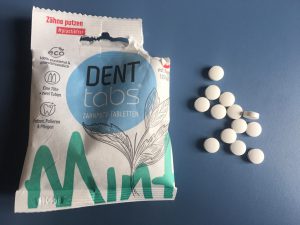 My latest step away from plastic in the bathroom: toothpaste in tablets. Can be a real eye catcher in the bathroom and free another household from some plastic! You simply take on and chew a bit. They start to foam quite quickly and are then no different from toothpaste in tubes. The dent tabs are packed in a sugar cane bag, plastic free on the outside and inside. Contrary to lots of conventional toothpastes, which still nowadays contain microplastic. They make a nice fresh breath. When you are traveling you can count some of them into your toiletry bag which is shrinking once more!
I hope, I could provide some tipps or inspirations for presents or own next steps away from plastic. Maybe some of the things even enter your own wish list :-)! I wish you a happy Christmas time!