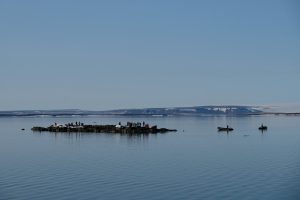 Shoes, helmets, shower gel bottles: In 2019, we continued the Citizen Science Beach Litter project for the Alfred Wegener Institute for Polar and Marine Research (AWI). Together with our guests we collected garbage on two islands in the Hinlopen Strait in Spitsbergen, with very different results. Part of this litter is now on its way again – to be analyzed in Germany. 

Scientific waste collection in Spitsbergen is and remains a complex matter. Of course, there is a lot of it lying around, basically you just have to pick it up. During the collection, however, a polar bear watch is also needed here, unlike elsewhere. Scientific collection also requires more time, coordination and guidance. The collection area must be measured exactly, the waste sorted and recorded. Then we have to get it on board, stow it well, get it off the ship in Longyearbyen and dispose of it in the correct containers. This is a mammoth task to undertake with guests on tourist ships – the collection must of course also fit into the tour plan: We mustn't leave out any nice experiences just because we want to pick up litter. The guests must agree to the undertaking and be up for it. Weather, wind and ice also have to play along. This means that, before we can even start collecting, a lot of pieces have to fall into place.
Collection on Tommelen
This year we succeeded twice in our collection efforts, twice in one day even! On the Spitsbergen circuit with SV Antigua we collected litter on two islands in the Hinlopen Strait. We did the first collection on the small island of Tommelen, south of the Alkefjellet Cliffs. The island was well-timed in our itinerary and we could see from a distance that a great deal of litter had accumulated in a bay. We quickly asked ten guests to come ashore to help with a collection. As always, these volunteers were easily found and we had our collection crew. We navigated carefully into the shallow bay of the dolerite island. In this bay, which is almost never entered by humans (has anybody you know ever set foot on Tommelen Island?), we found: helmets, fishing nets, floats from fishing nets, ropes, strips of plastic, plastic parts, bottles and cans of deodorant, shower gel bottles and much more. For an hour, eleven collectors gathered as much as possible. However, as is so often the case, we had to leave countless small pieces of plastic behind. A large amount of driftwood had accumulated in the bay, most of the plastic had become stuck between the branches and trunks.
The result of this collection is still pending: We filled the many smaller sacks we brought back on board into a large white sack and at the end of the journey we left it on the doorstep of the logistics company Pole Position. Pole position is familiar with the procedure now: The sack with its load of litter picked up by them and sent to Bremerhaven. There it is opened and examined by the scientists Melanie Bergmann and Lars Gutow at the Alfred Wegener Institute. In the sheltered, wind- and polar bear-free atmosphere of the AWI, the waste can be examined much more closely than it can on the beach. This particular sack is currently still on its way to Germany. I'm curious to hear what we will find in it. After the first collection, we visited the walrus colony on Wahlbergøya. I love these quiet landings, where we can just watch these majestic animals at a safe distance, lying on the beach and digesting, or diving for shells close to the shore. Because plastic waste is now common even directly in amongst such colonies, our landings spur us on again and again to carry out our beach cleaning.
The AWI Litter Island
We did the second collection right after this walrus landing. Because we should choose our collection points as randomly as possible (i.e. not only collect litter where there is a high concentration), we chose a tiny island on the map, an island so small that it does not even have a name. It was one of Wijkanderøyane, we baptised it the "AWI Litter Island". This collection was born out of my curiosity: In 2017 we had already explored an island in the Hinlopen Strait, Kiepertøya, as part of the project. There we were met by devastating sight – one of the most litter-strewn beaches I've ever seen in Spitsbergen. During the morning collection on Tommelen we had found a similar picture. With the investigation of a third island I now wanted to find out more about whether all the islands in the Hinlopen Strait were heavily polluted due to the sea currents, and whether the geology of the island – composed mostly of jagged dolerite rock – plays a role.
The AWI Litter Island we had now chosen is really a very, very small island: It has an area of only 1188 square meters and is located in the middle of the Hinlopen Strait. We were able to go ashore in the very shallow water with the inflatable boats in an enchanting, tranquil evening ambience.
Surprisingly, there was very little for us to do: We found only a few remnants of fishing nets and small items of litter, 490 grams in total, 65 individual pieces, above all once again fishing nets and ropes. Presumably, this is due to the topography of the island: On the other two islands we had visited north-facing bays in which litter had collected, here on AWI Litter Island, which consists almost entirely of dolerite rock, very little garbage gets caught. We were surprised by this because we had expected to find much more litter caught between the rocks. Instead we found picturesque scene bathed in this dreamy light, a haven of tranquillity not destroyed by litter.
The sense of the collections is still to acquire a more accurate picture of how big the problem really is in Spitsbergen, and where exactly the rubbish is coming from. The goal is to create greater awareness of the plastic issue by publishing these numbers. We also aim to be able to define and tackle the sources of litter because the collections certainly do not solve the problem. They may prevent the entanglement of some animals, which is already a success in itself. But no more than that. Next year we will continue to collect, especially on our voyages on the MS Cape Race.
Many thanks to all who have made these collections possible again: Michelle van Dijk (Expedition Leader SV Antigua), Robert Wolting (Captain SV Antigua), the entire crew of SV Antigua, the Tallship Company, Marcus Grahl (Leguan Reisen) and of course all the guests of the Spitsbergen Circumnavigation who collected the litter with us.