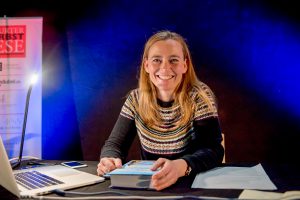 Two and a half years of work, three trips, many conversations – and now it is there, my new book "Today we go whaling…" In it, East Greenlanders tell me how it is at this cold end of the world, in a world somewhere between tradition and modern life. I spent a total of three months in East Greenland. My experience was both one of joy, and one of sadness. And this is how I put the story to paper.
The best moment about writing a book is clearly when the finished book is on the table in front of you. When everything that has been going around in your head for so long is printed in front of you, when you can finally see it and touch it. And then it starts to get exciting – what will happen to it now? Will anyone want to read the book? Will it get sold? Will it generate interest? These questions are doubly exciting when you have invested a lot in a book, when you have travelled and returned home, when you went out a second, and a third time because there were still so many questions to be answered. From the moment a book has been published, you no longer have control over what happens, and the book no longer belongs to you – if it ever had done.
At the beginning of November, we presented "Today we go whaling…" at an evening held in the Munich Globetrotter branch, comp airedby Achim Zons. It was a wonderful evening!
A second evening in the café of the Slyrs whiskey distillery in Schliersee followed, and a reading at the Autumn Harvest in Erfurt, in front of more than 300 listeners.
It is my wish that this book find many readers. Not because it is my book, but because it is the book of all those who appear in it. It is the Caroline's book, who comes from Isortoq and has lost all her childhood friends. It is the Harald's book, who was born in an earth house in a deserted village, but whose daughters all have university degrees today. It is the Erik's book, the policeman who cried when he had to travel back to Denmark from Tasiilaq, it is Gerda's book, who was once called Gerd, and who opened a bookshop in Tasiilaq, the likes of which are otherwise only found in books. It's Massanti's book, the son of a hunter who lives between Denmark and Tasiilaq, and who is desperately seeking a home. It's Vanilla's book, who married a West Greenlander and is much happier working in a school in Tasiilaq than as a teacher in Denmark. It is Emanuel's and Charlotte's book, who let us spend wonderful days with them and were not angry when we couldn't eat the big portion of whale skin they offered us.
All these people and more have confided in me, in very trusting conversations, have told me what moves them, described how they live at this cold end of the world. It is a world that is actually not that far away from us. And yet it is dimensions removed from us. They shared wonderful thoughts and stories with me, and I wrote them down.
In the course of three journeys, a picture emerged that is extremely multifaceted, a picture that addresses the issues of whale and seal hunting, values, modern life, traditions, that is actually about the big picture, and not "only" about Greenland. And many of the Greenland people I met have kept me thinking, have held up a mirror for me.
I did not find an indigenous people in Greenland, I cannot find the hunter's life romantic, nor can I find life in the small wooden huts in god-forsaken villages romantic. And yet I learned a lot in Greenland, not because the Greenlanders are a wise indigenous people, but because they are simply people who have a different perspective on life than we Europeans.
They were exciting trips, on which I didn't plan very much, but in which a lot happened. And I wrote everything down. Not romantically, but honestly, the way it was.